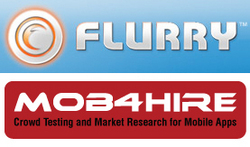 We're
excited to announce our new partnership
with Flurry Analytics out of San Francisco:
Mob4Hire, the leading crowd-sourced mobile application testing solution, today announced an agreement that combines Flurry mobile application analytics with the Mob4hire global community of testers, making both qualitative and quantitative user behavior data easy to access in order to make mobile software better.
In other words, analytics such as the ones Flurry provides tells mobile app developers and advertisers "what" the user does in your apps. The Mob4Hire community tells them "why" they did what they did (and what else you need in your app / what can you do better?).
Sean Galligan, Flurry vice president of business development has this to say: "We are excited to partner with Mob4Hire to deliver a powerful, joint offering that helps developers improve their applications and grow their mobile business."